Holiday Club Saimaa –  our congress venue and hotel
IMWA congress will be organized in the congress hotel Holiday Club Saimaa. It provides excellent facilities for our congress, accommodates all delegates and offers lots to do for the whole family. The hotel is located by Lake Saimaa. You can enjoy the clean lake and white summer nights – Finland at its best.
Holiday Club Saimaa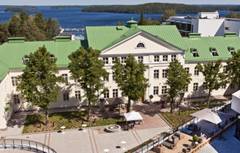 Rauhanrinne 1 / Tiuruniementie 131
55320 Rauha
Finland
Reception +358 (0)30 686 1002
Congress venue
At Holiday Club Saimaa we have versatile and flexible spaces for all of our congress events under one roof. The conference wing is in the main floor of the spa building. The center of the congress world is an ice arena – with or without ice – and it is the place for our Ice Breaker Party. (And we don't mean breaking the ice literally).
Congress hotel
In a beautiful natural landscape of South-Eastern Finland, amid 300 hectares, this congress and spa hotel is packed with a variety of experiences. Following a day of interesting and inspiring congress program, you can enjoy tennis, padel or golf. Go swimming, rowing or fishing. Relax in the full-service harmony spa, exercise at the gym or go horseback riding. The facility is surrounded by forest and lake, with a variety of hiking trails for all skill levels. And considering the proximity to Russia, this area of Finland is a fascinating region for historians.
There are four different restaurants within the hotel facility, and others to explore in downtown Lappeenranta and Imatra. The hotel restaurants are Easy Kitchen for lunch, Le Biff á la carte, Classic Pizza and O'Leary's. By the lake in the hotel area there are the restaurants Seiskan Seppä and Teerenpeli. There is small grocery store adjacent to the hotel area, and the hotel hosts an Angry Birds Activity Park and Spa Cirque de Saimaa.
Holiday Club Saimaa is a unique location for mixing work and holiday.
More details on the hotel website.